Being 'pelted with rocks' was the highlight while filming 'Aquaman' says Nicole Kidman
The 51-year-old Australian artist changes as Queen Atlanna in DC Comics' most recent epic Aquaman, playing the mum of the submerged legend himself, Arthur Curry (Justice League's Jason Momoa).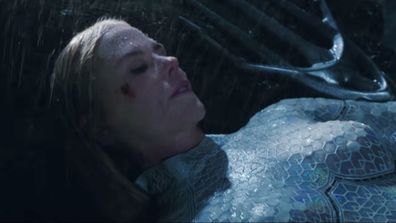 Nicole Kidman stars as Queen Atlanna in 'Aquaman.' (Warner Bros. Pictures)
TheFIX was close by July 21 at the notable Hall H board at San Diego Comic-Con in California where, surprisingly, Kidman graced the self-broadcasted nerd tradition arrange and gave fans an elite look – and feel – of her turn as a comic book symbol.
The performer and her co-stars opened up about a portion of the more ruthless snapshots of recording the exceedingly foreseen film. One of them? The especially rebuffing first scene Kidman recorded, where Queen Atlanna is discovered appeared on a stone.
"I had these huge waves slamming over me. I'm considering, 'The greater, the better! Go ahead, James. Offer it to me. That is the reason I'm doing this motion picture,'" Kidman reviewed.
Resounded Aquaman chief and Australian producer James Wan, "Nicole was a trooper, on the grounds that truly, we were walloping her with this enormous water tank that shoots rainstorms, simply descending on her. When you get hit with those, it resembles being pelted with rocks."
Alongside another official trailer for the film, DC fans likewise got a look at an especially frightening battle arrangement, where Kidman could without much of a stretch give Superman a keep running for his cape.