The best & worst dressed celebs at Grammy Awards 2022
The 64th annual Grammy Awards travelled to the MGM Grand Garden Arena in Las Vegas on Sunday night, rather than the usual gala in Los Angeles. Hosted by Trevor Noah, the long-awaited extravaganza saw thrilling performances from Lady Gaga, Justin Bieber, Billie Eilish, Olivia Rodrigo and H.E.R., among others.
Before the awards ceremony, we all watched as music's biggest stars paraded the red carpet in Sin City. Unlike the classic haute couture gowns and dazzling jewellery of the Oscars, stars at the Grammys more often not opt for something more daring or in a (much) brighter hue. This year, the male stars outshone their female counterparts, and a handful of couples brought the cute factor to the red carpet.
From Billy Porter's androgynous Valentino look to Dua Lipa's iconic Versace bondage dress, here's our take on the best and worst dressed celebrity looks on the 64th Grammys Awards' red carpet.
The Grammys' best dressed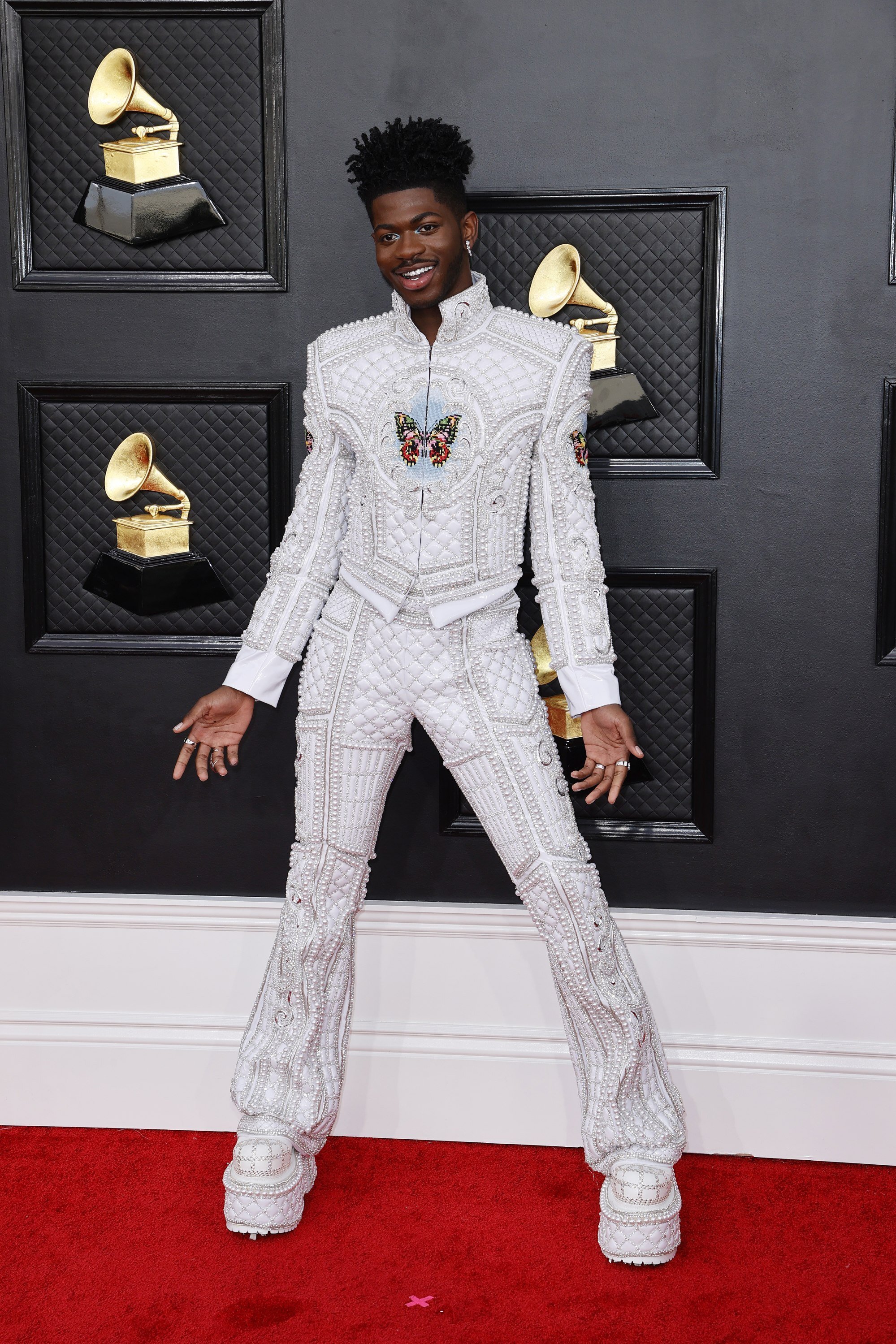 Leave it to Lil Nas X to wear one of the most notable outfits of the night. Photo: EPA-EFE
Red carpet staple Lil Nas X rarely fails to turn heads with his norm-challenging outfits. Nominated for five Grammys this year, the singer cut an incredible silhouette in a white pearl-studded, shoulder padded Balmain suit, a design similar to the US$20,000 dress Kim Kardashian wore in Paris in 2014.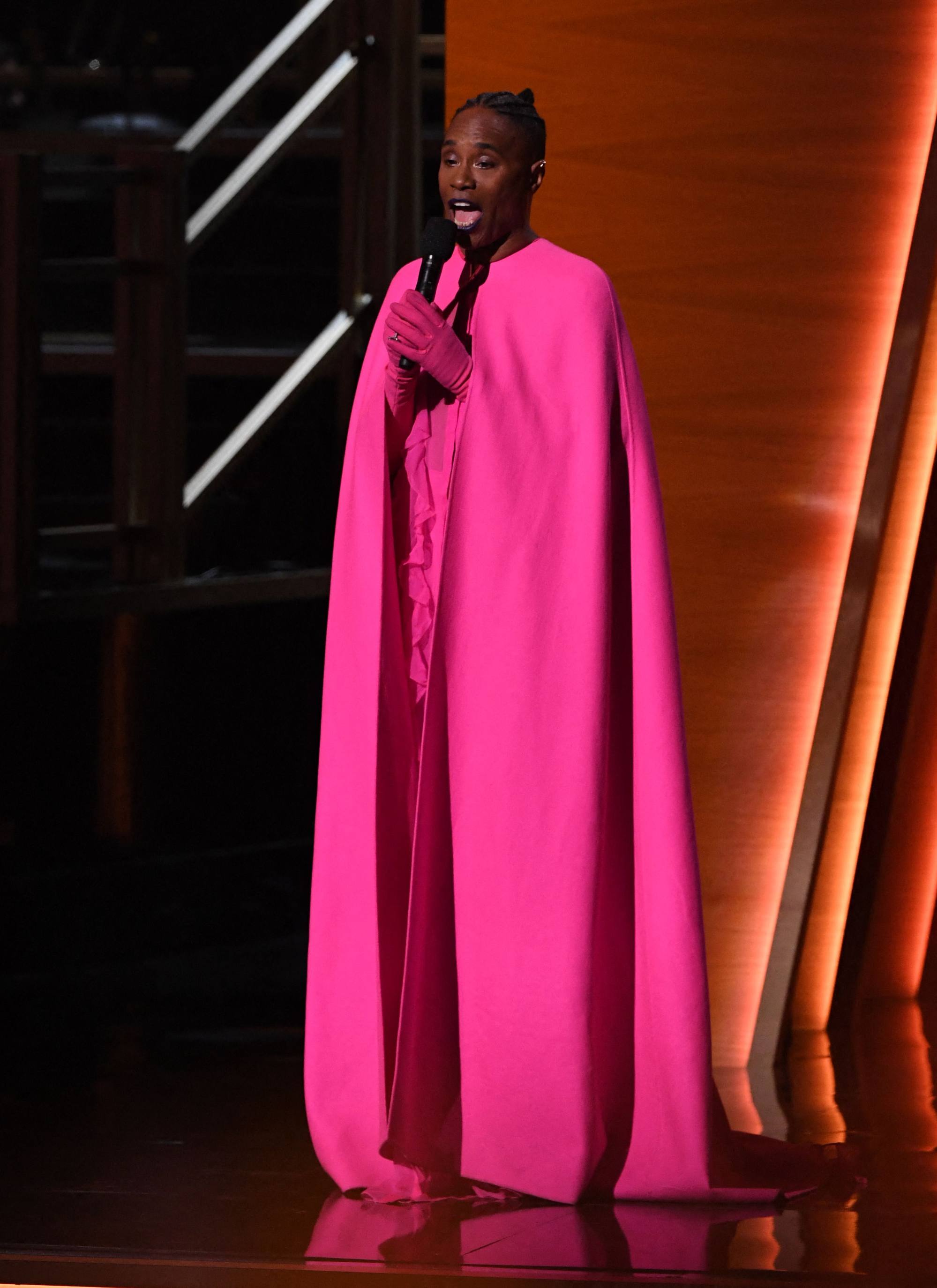 Billy Porter embraced the colour of the night onstage at the 64th Annual Grammy Awards – and looked fabulous. Photo: AFP
Another fashion lover that never disappoints is Billy Porter. The American singer showed up dressed head to toe in hot pink Valentino from the brand's latest Pink PP Collection, designed by the fashion house's creative director Pierpaolo Piccioli.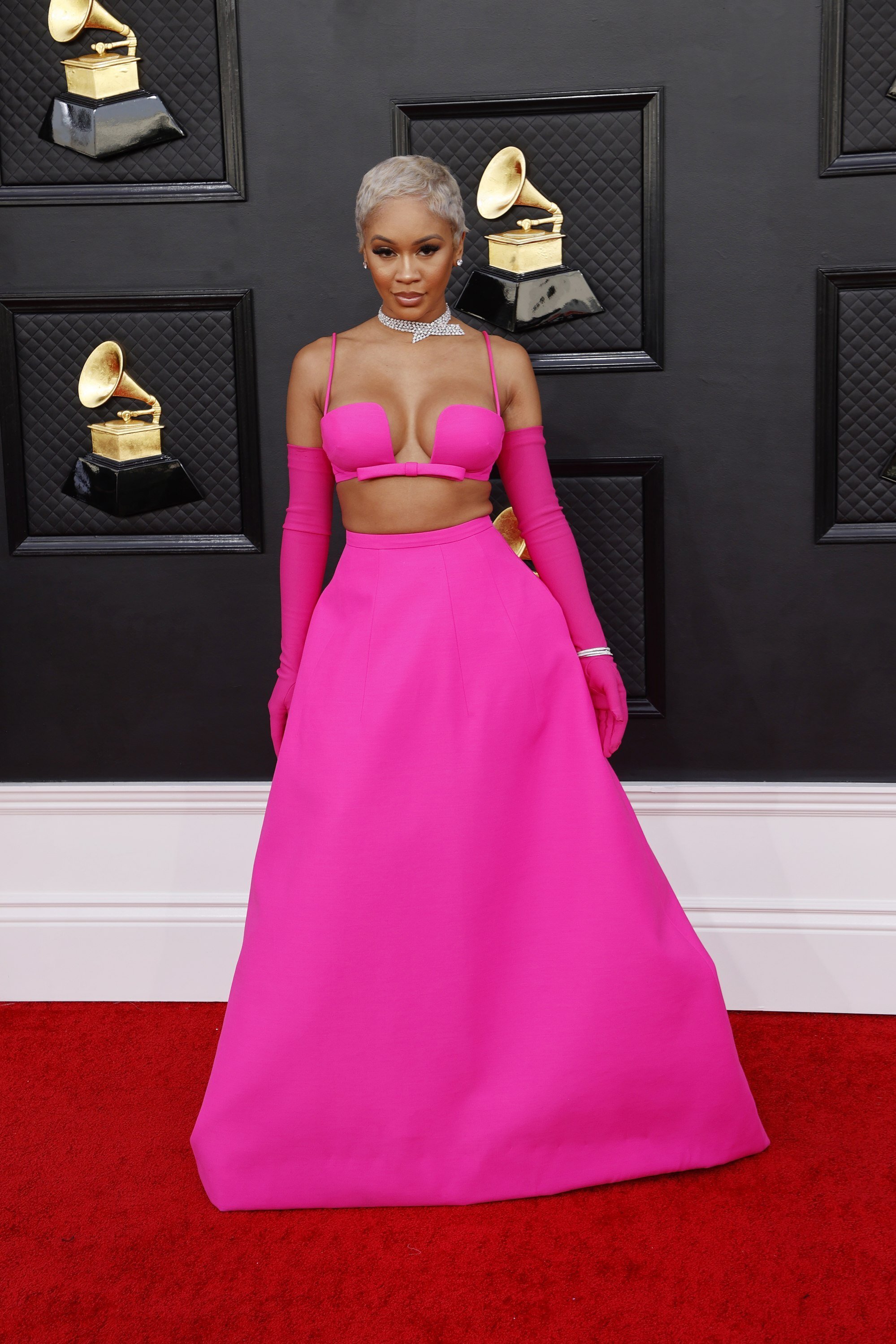 Hot pink was the colour of the night, with Saweetie being just one of the stars rocking the vibrant hue. Photo: EPA-EFE
US rapper Saweetie opted for Valentino's striking fuchsia look too, showing up in a sensational long skirt, bra top and long gloves. She paired the outfit with Valentino's Garavani Tango shoes to finish the look.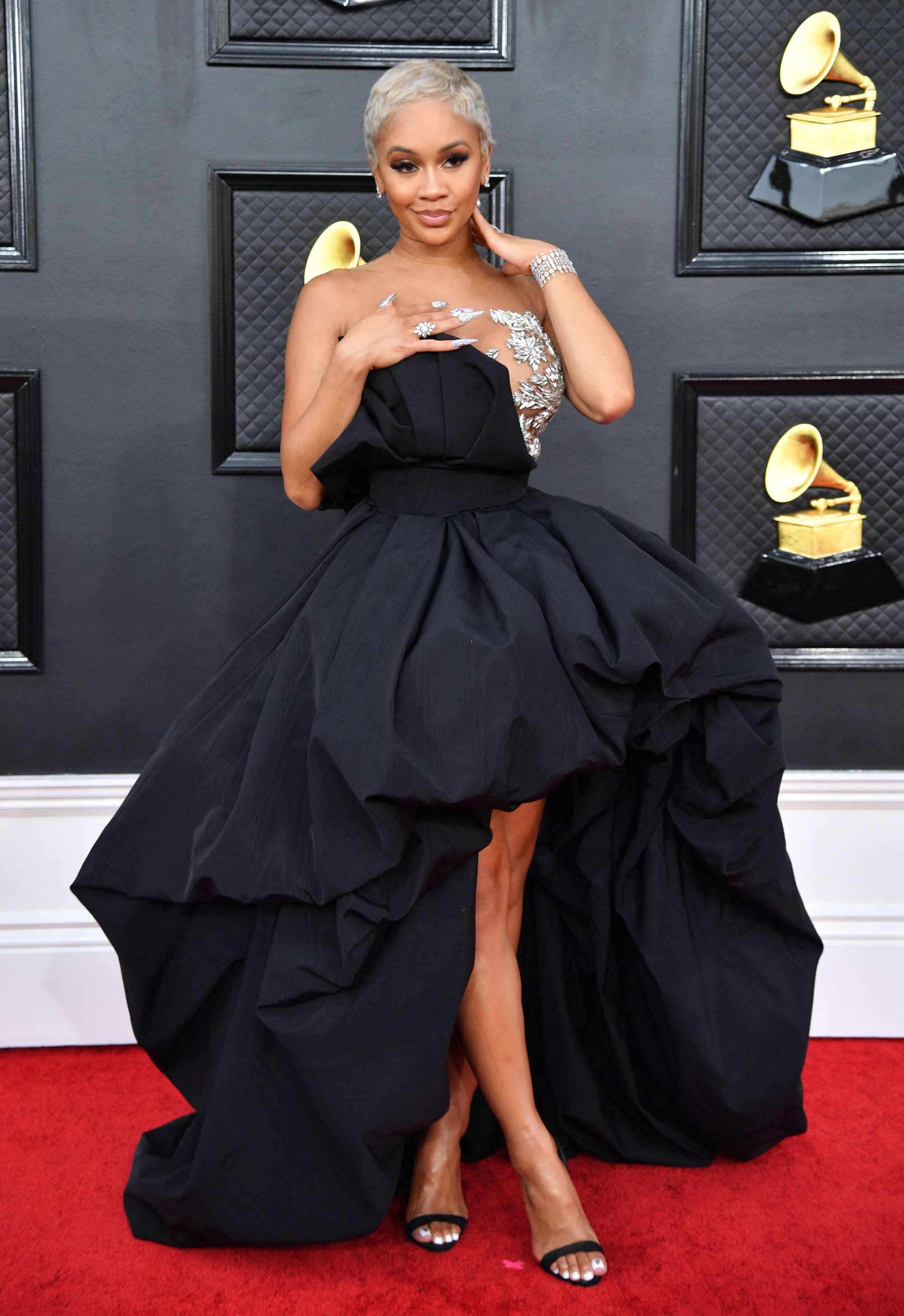 It seems US rapper Saweetie couldn't decide between two looks for the Grammys, so opted for both. Photo: AFP
Then, in case the Valentino number didn't make a big enough impression, the Bestie singer changed into a gorgeous black taffeta bubble Oscar de la Renta gown.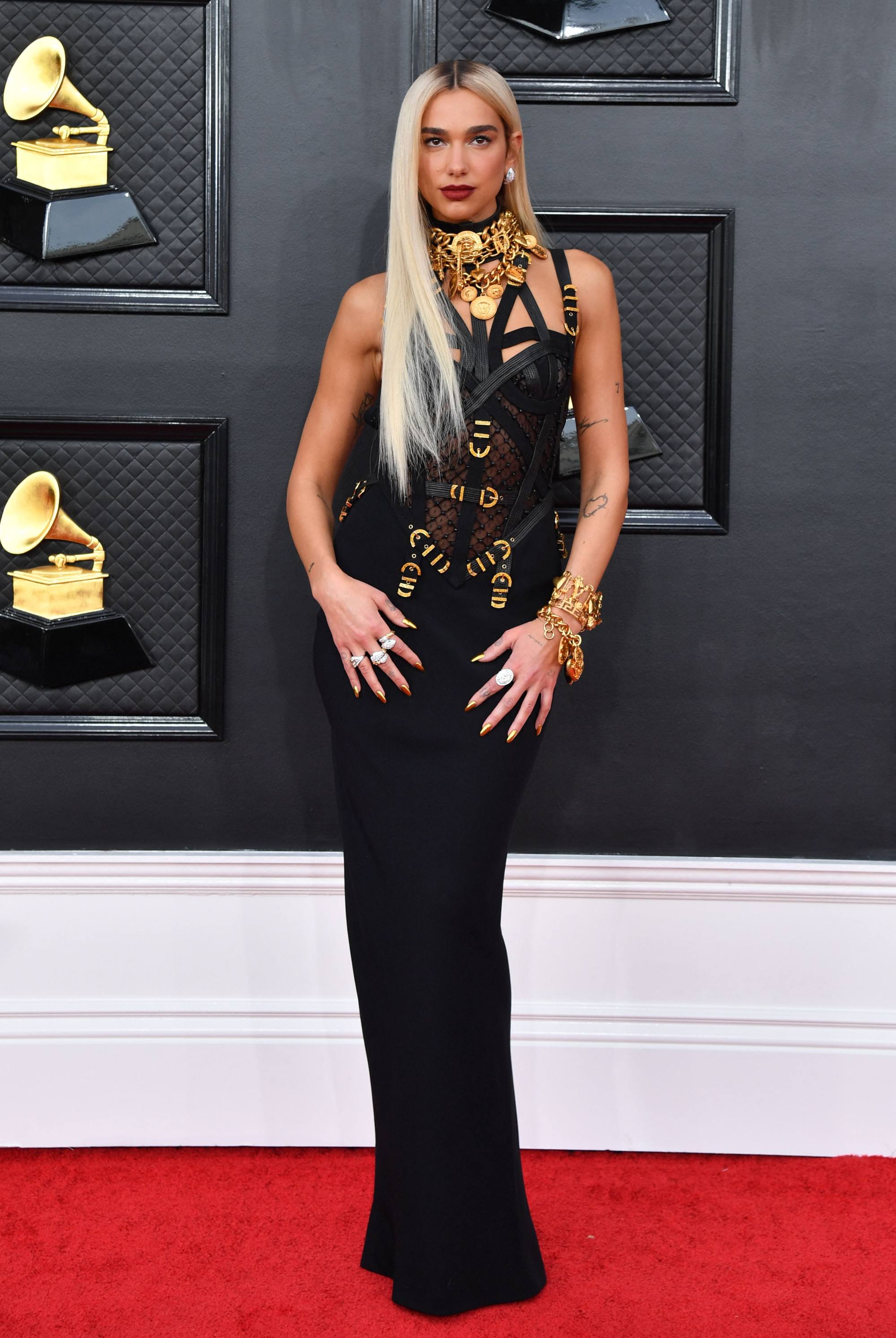 English singer-songwriter Dua Lipa dipped into the fashion archives for her look. Photo: AFP
Dua Lipa decided to don a slinky throwback dress from Versace's Miss S&M autumn/winter 1992 collection, first made famous by Cindy Crawford. The mesh bustier adorned with straps and golden buckles, and with a fluid skirt was a hit – especially when paired with her new blonde bombshell look.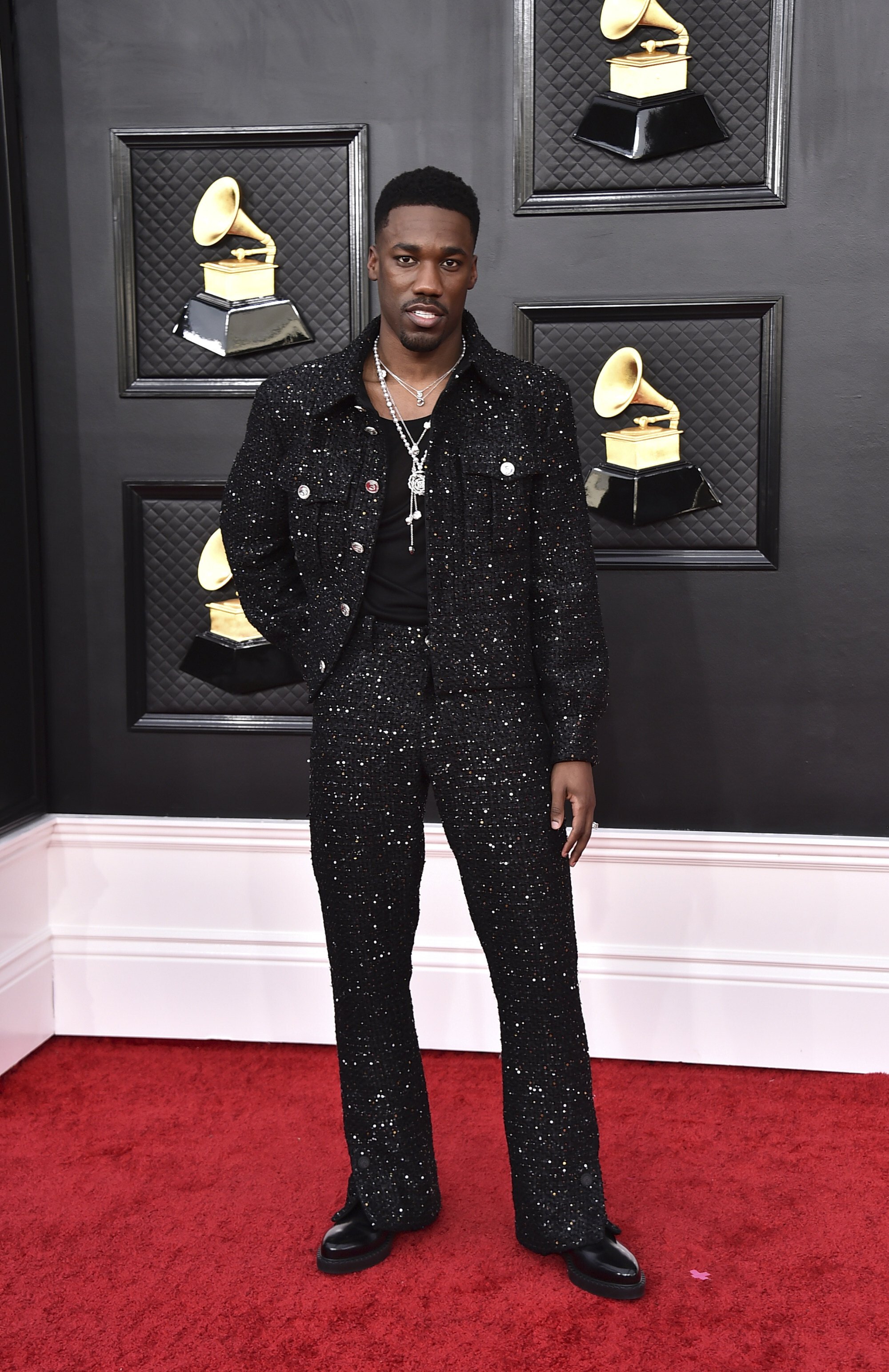 Giveon decided to shine like the star he is in Chanel. Photo: AP
Giveon, nominated for Record of the Year for Peaches, literally sparkled in a custom made Chanel suit and diamond jewellery, once again showing that men can also rock the brand's classic tweed designs.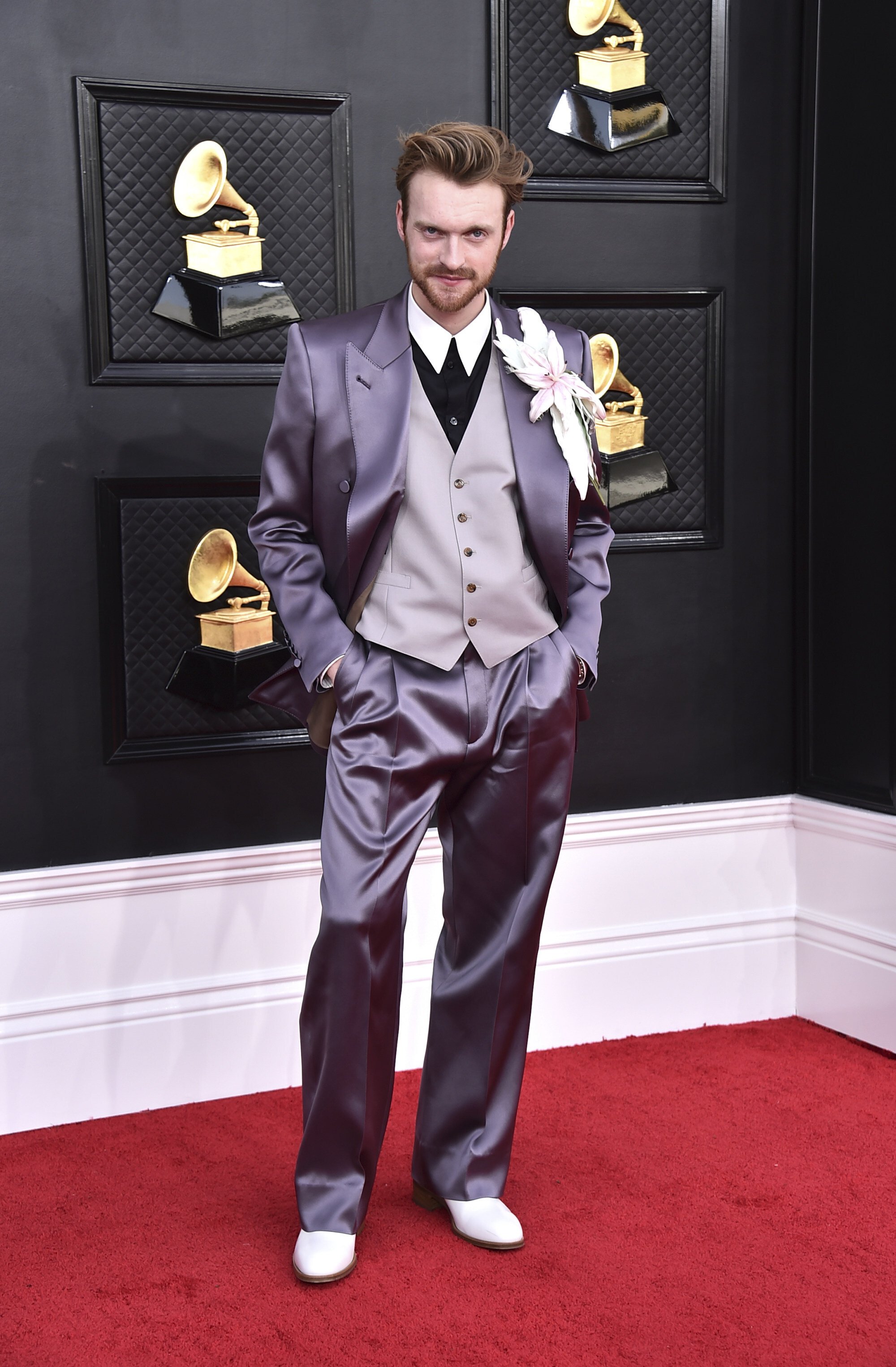 We hope Finneas O'Connell didn't slide out of his seat in this outfit. Top marks for looking so dapper though. Photo: AP
Meanwhile Billie Eilish's sharp-dressed brother Finneas O'Connell looked dapper in a purple satin three-piece suit over a black poplin shirt that had a contrasting white collar. Then he went a step further by adding a giant, statement Gucci flower brooch.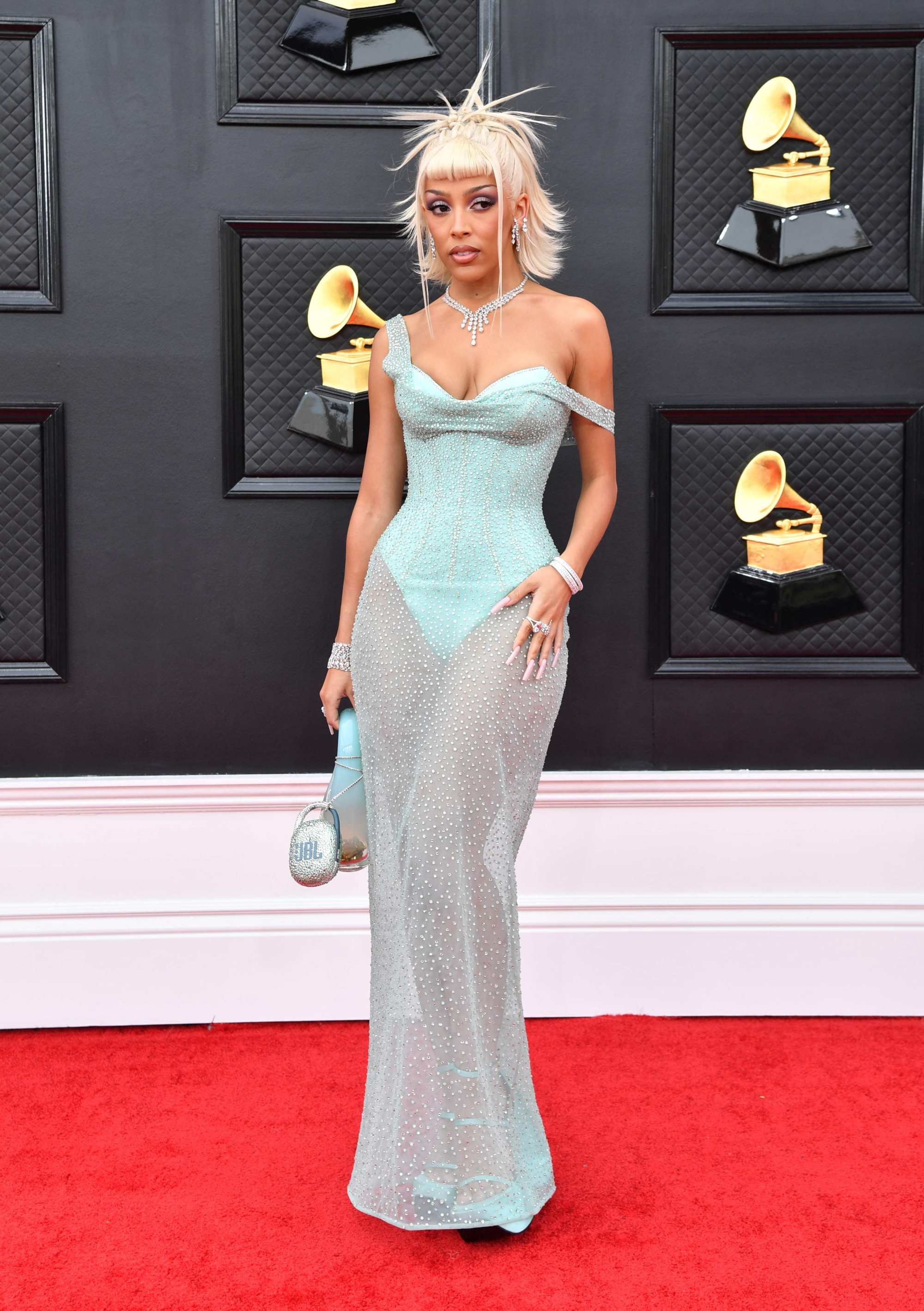 US rapper Doja Cat arrives for the 64th Annual Grammy Awards at the MGM Grand Garden Arena in Las Vegas on April 3, 2022. Photo: AFP
Doja Cat showed off her flawless figure in a custom corset and crystal, hand-embroidered dress from Atelier Versace, which took hundreds of hours to create. Her accessories – Samer Halimeh and Jacob & Co. jewellery, a blown glass bag and bedazzled JBL speaker (!) – added the tongue-in-cheek finishing touches we've come to expect from the star.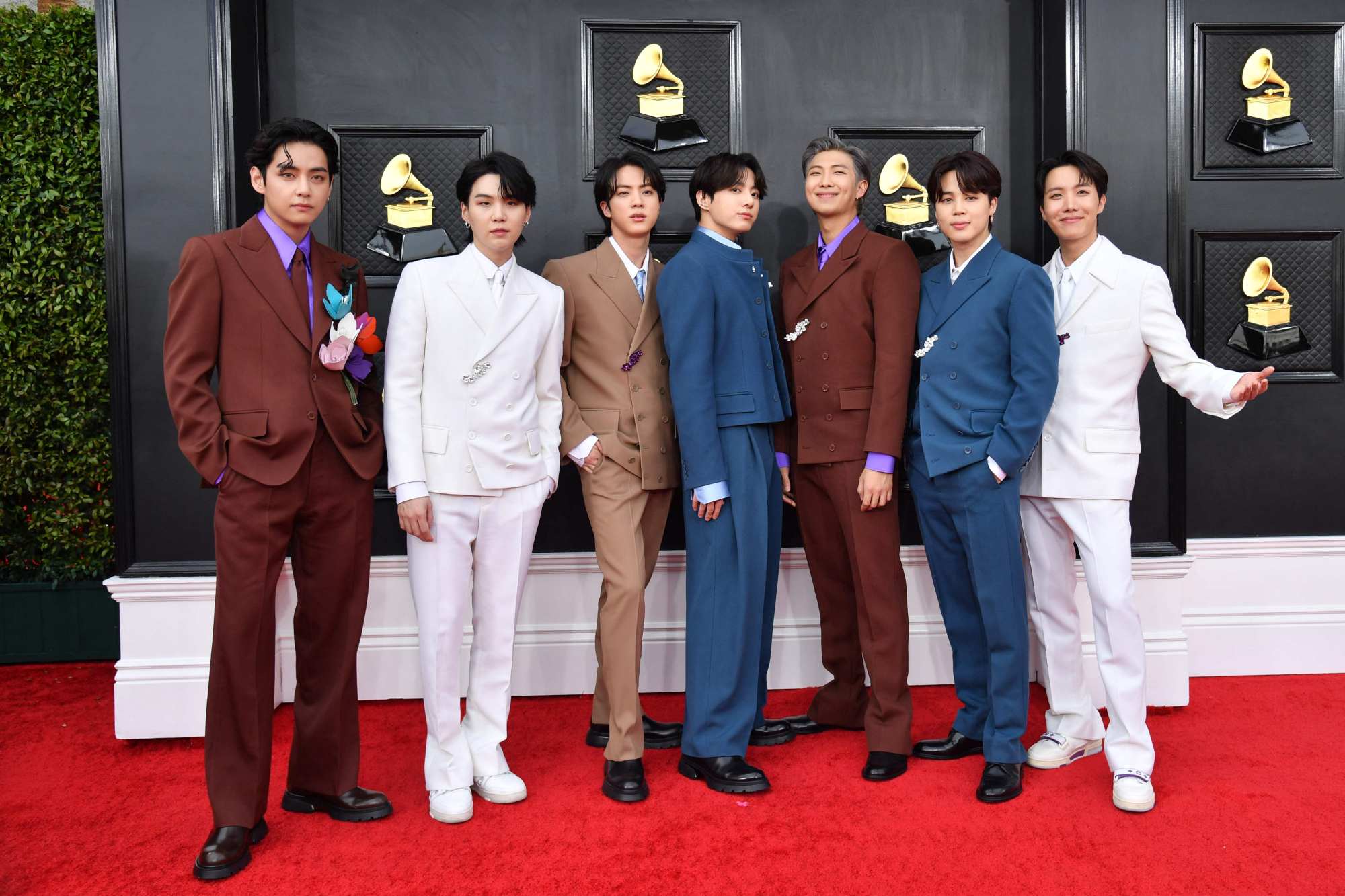 BTS showed up in double-breasted Louis Vuitton suits in an array of different colours. Photo: AFP
Nominated for Best Pop Duo Group Performance for Butter, K-pop boy band BTS all came to the Grammys red carpet in un-matching Louis Vuitton. The seven idols were wearing custom wool and cashmere suits finished with bejewelled pins, silk and cotton shirts, plus leather derby shoes or trainers.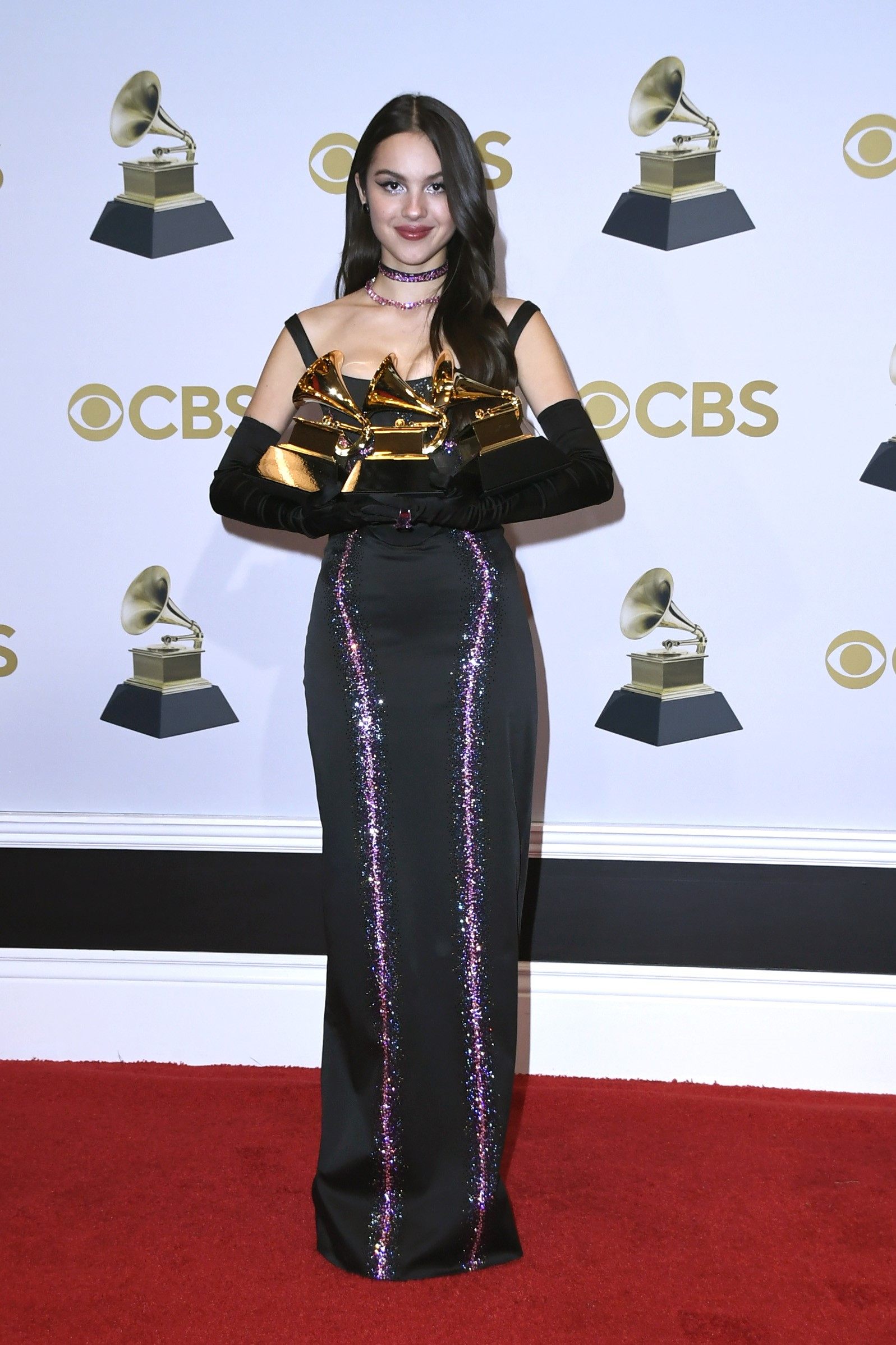 Olivia Rodrigo, winner of Best New Artist and Best Pop Solo Performance for Drivers License, clutches her new awards. Photo: AFP
Olivia Rodrigo, winner of the Best New Artist award, made her Grammys debut in a Vivienne Westwood trompe l'oeil gown.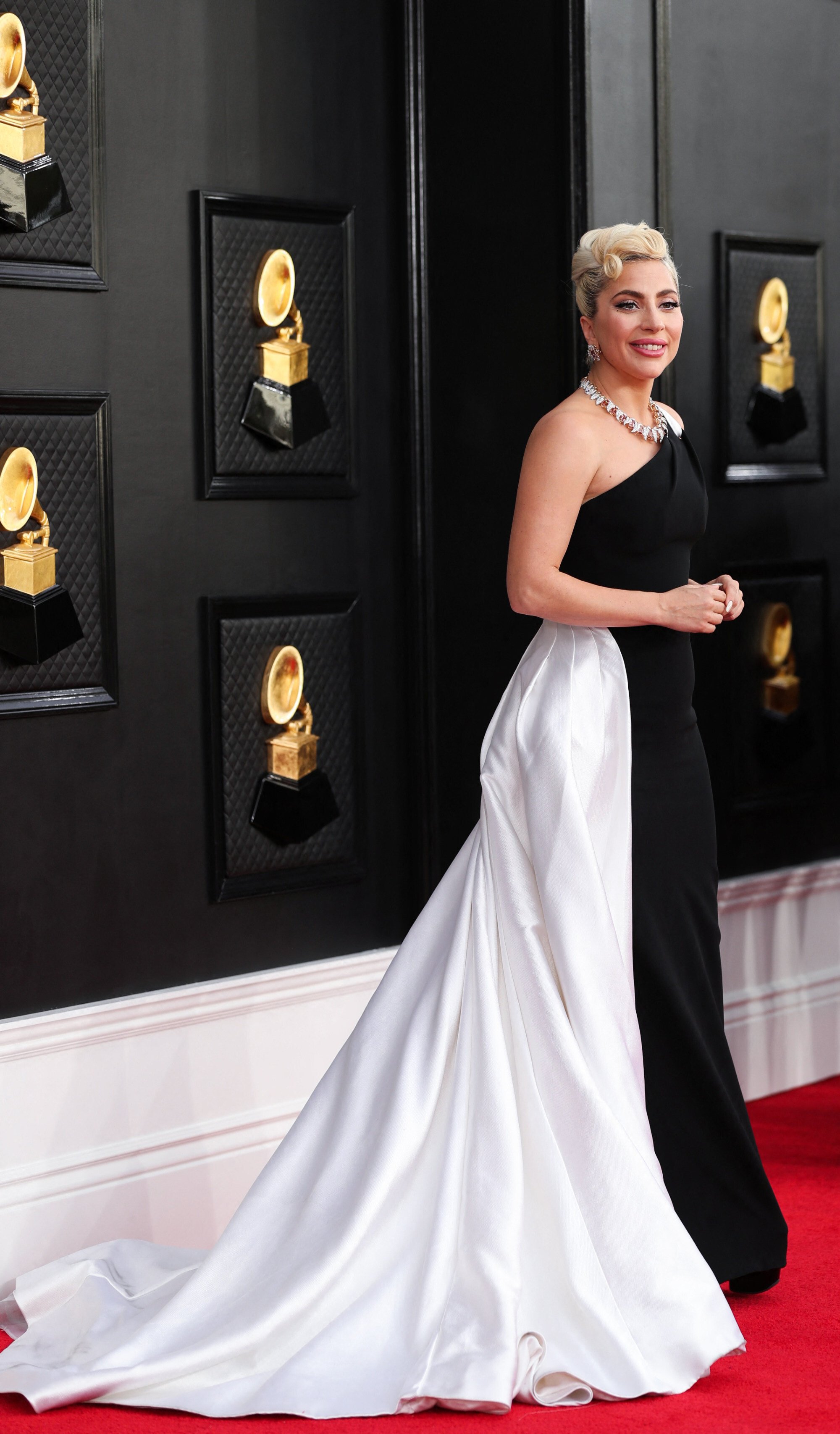 Lady Gaga's dress screamed classic Hollywood. Photo: Reuters
Elsewhere, Lady Gaga opted for classic Hollywood glamour in an elegant monochrome gown from Armani Privé.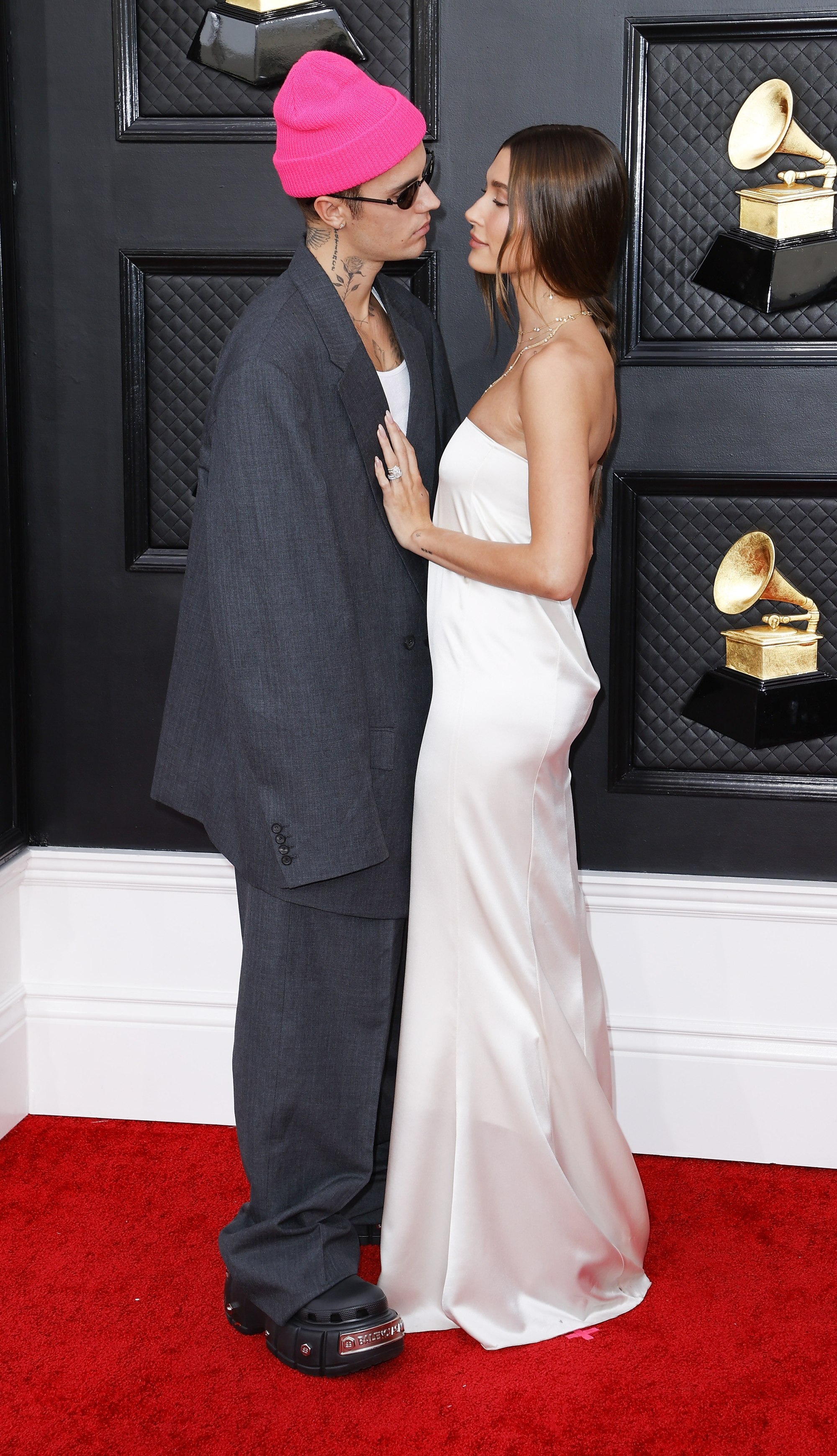 Justin Bieber's Balenciaga x Crocs may be a controversial look but you can't deny that Hailey Bieber's dress made a fun contrast. Photo: EPA-EFE
Justin Bieber and model wife Hailey Bieber had a cute PDA moment on the red carpet, which showed off their contrasting looks. Bieber chose an oversized suit from Balenciaga, pink beanie hat and black platform Balenciaga x Crocs, while Hailey stepped out in an elegant, figure-skimming dress from Saint Laurent.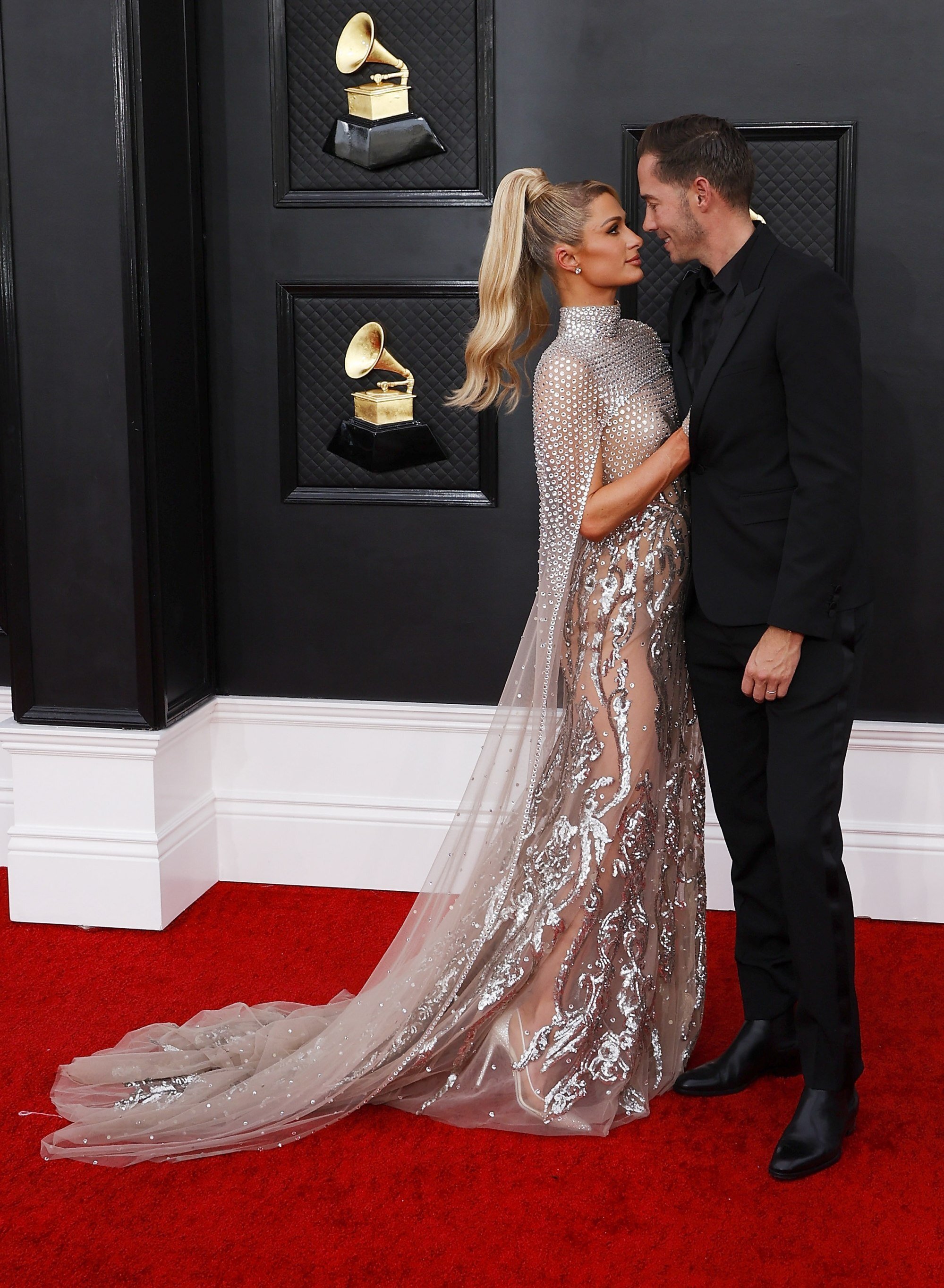 Fresh from their November nuptials, Paris Hilton and Carter Reum made a striking impression at the awards. Photo: EPA-EFE
American socialite and DJ Paris Hilton looked incredible in a bejewelled see-through gown from Dundas as she posed with husband Carter Reum.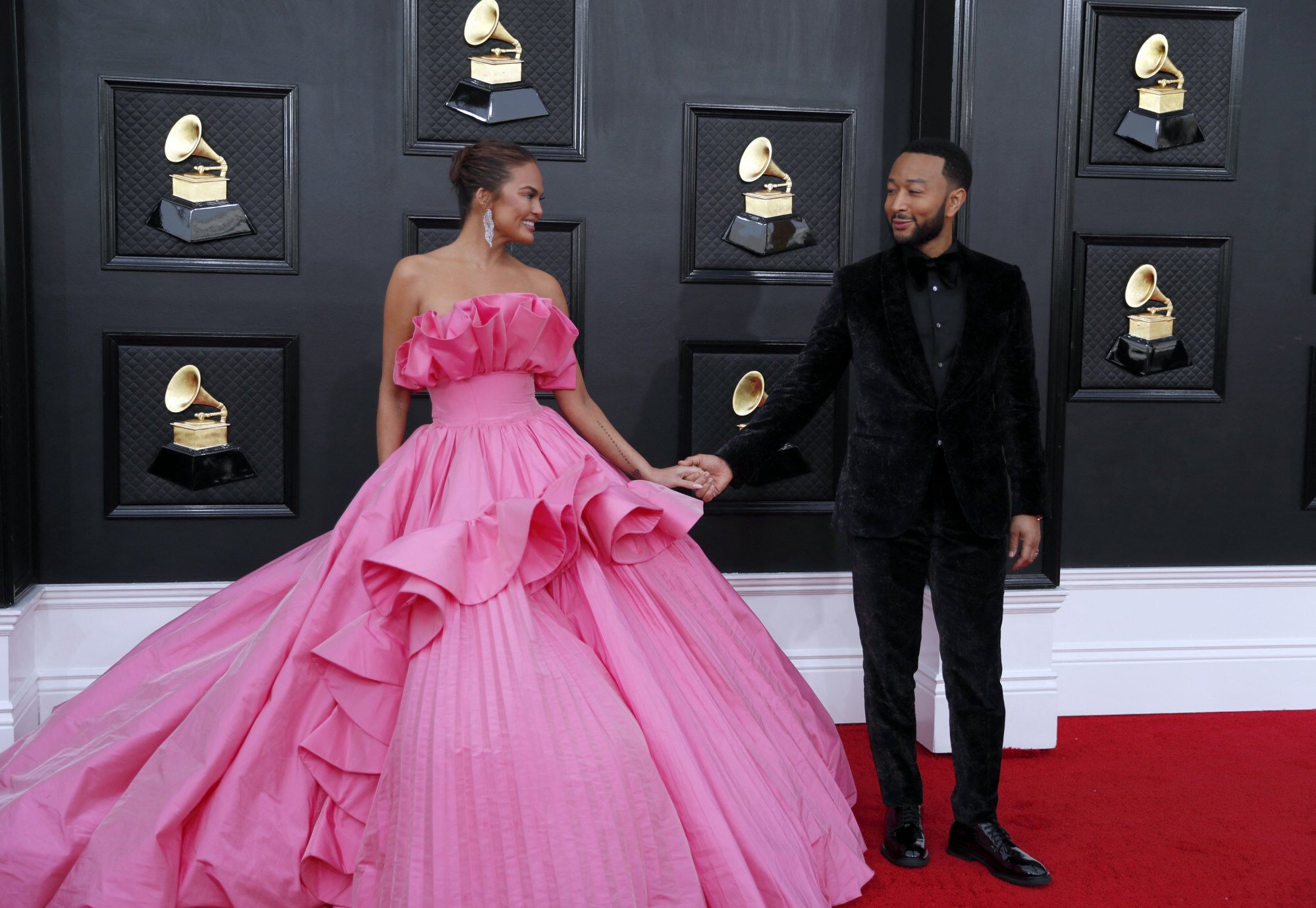 Chrissy Teigen and John Legend shared a look that said "we nailed it" when they appeared on the red carpet at this year's Grammy Awards. Photo: Reuters
Chrissy Teigen and John Legend are often the epitome of #couplegoals on the red carpet, and the pair made yet another head-turning appearance in Vegas. Teigen wore a voluminous pink gown from Nicole + Felicia Couture, while Legend wore a more subdued blue suit for his performance, which was a tribute to Ukraine.
The Grammys' worst dressed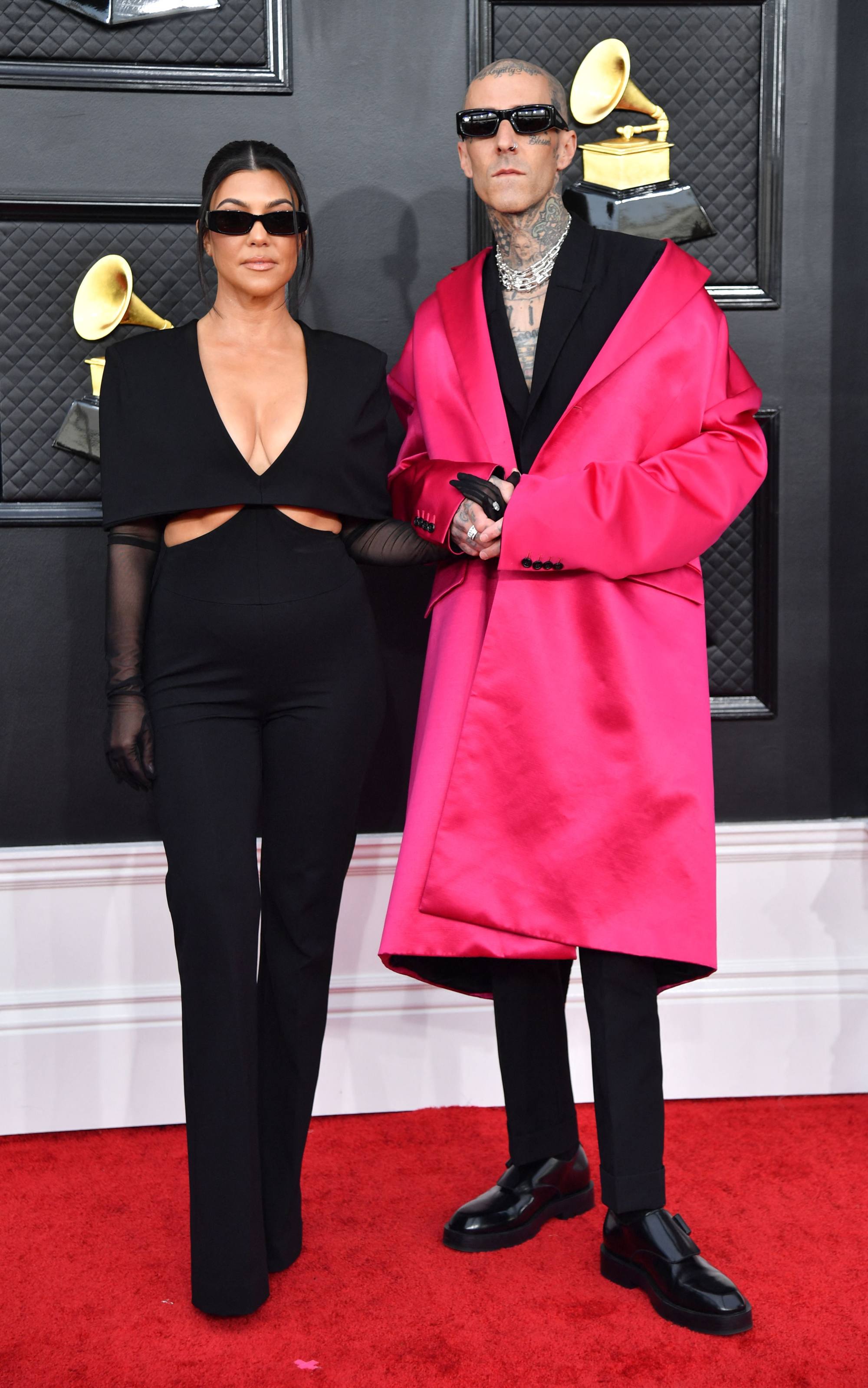 Kourtney Kardashian and musician Travis Barker didn't excite with their outfits, despite the hot pink. Photo: AFP
Reality TV star Kourtney Kardashian and her partner Travis Barker took to the red carpet in underwhelming outfits, with Barker's pink (what else?) Givenchy coat commanding more of the attention than his wife's Et Ochs jumpsuit – but not in a good way.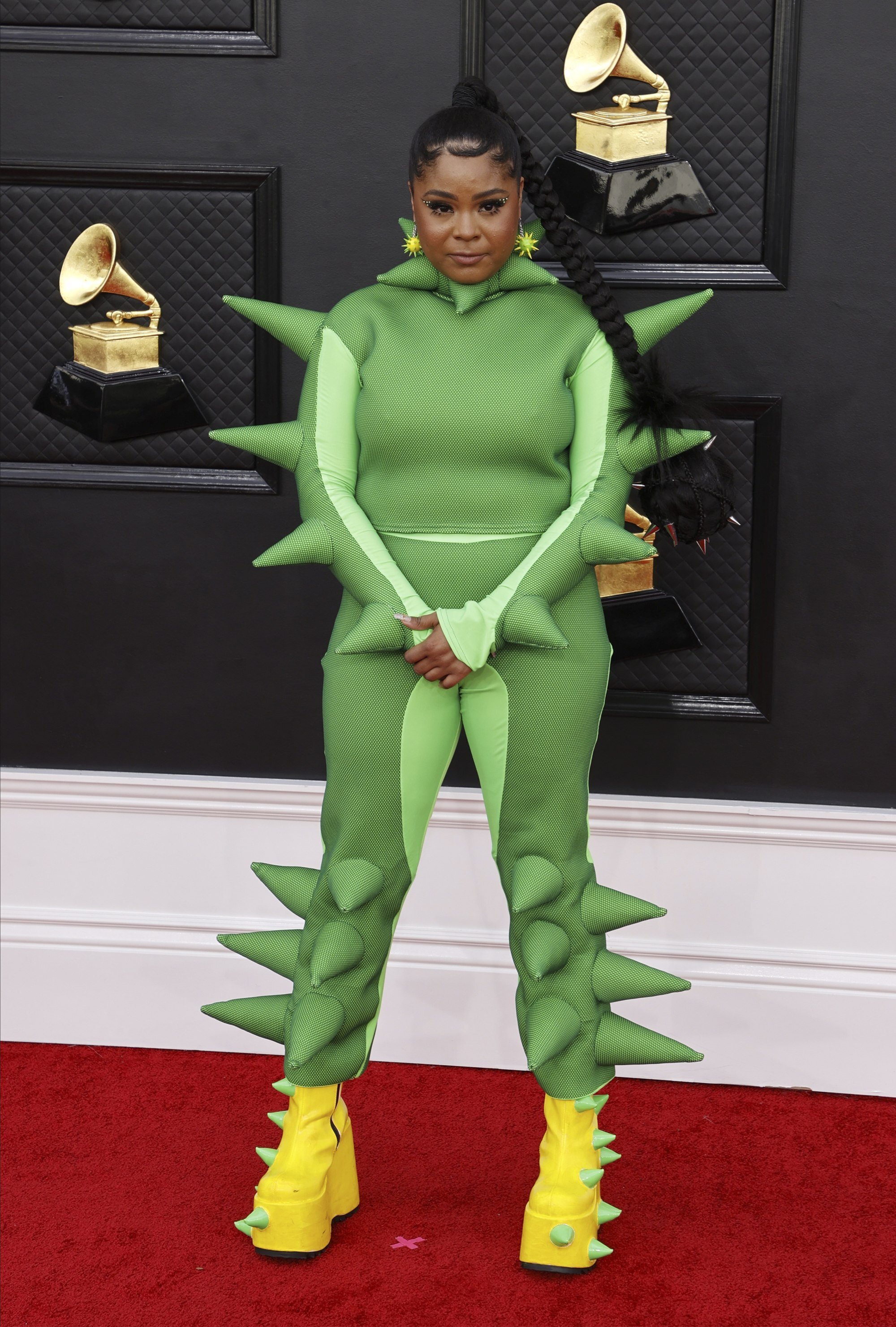 Did Tayla Parx arrive at the MGM Grand Garden Arena in a Mario Kart? Photo: EPA-EFE
There's nothing wrong with making a quirky or bold statement, but singer-songwriter Tayla Parx's Super Mario-esque dinosaur ensemble truly looked more like she was on her way to a costume party than the Grammys.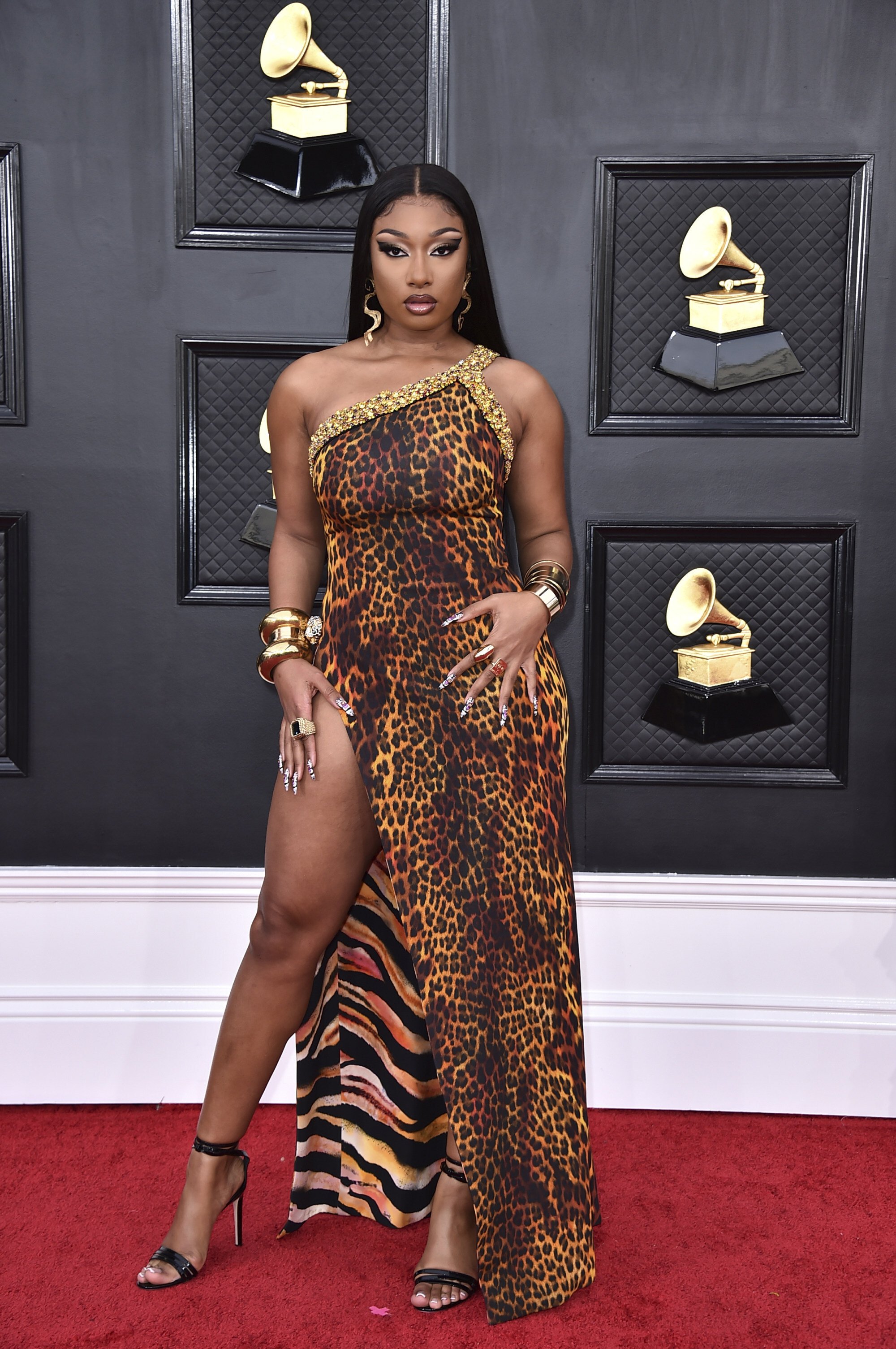 Megan Thee Stallion embodied fierce at this year's awards – but we still prefer her Oscars gown. Photo: AP
Megan Thee Stallion's Roberto Cavalli animal print dress saw her cut a powerful figure on the red carpet at the Grammys – and perhaps was more in keeping with the event – but it was still a let down after the beauty of her Oscars ensemble.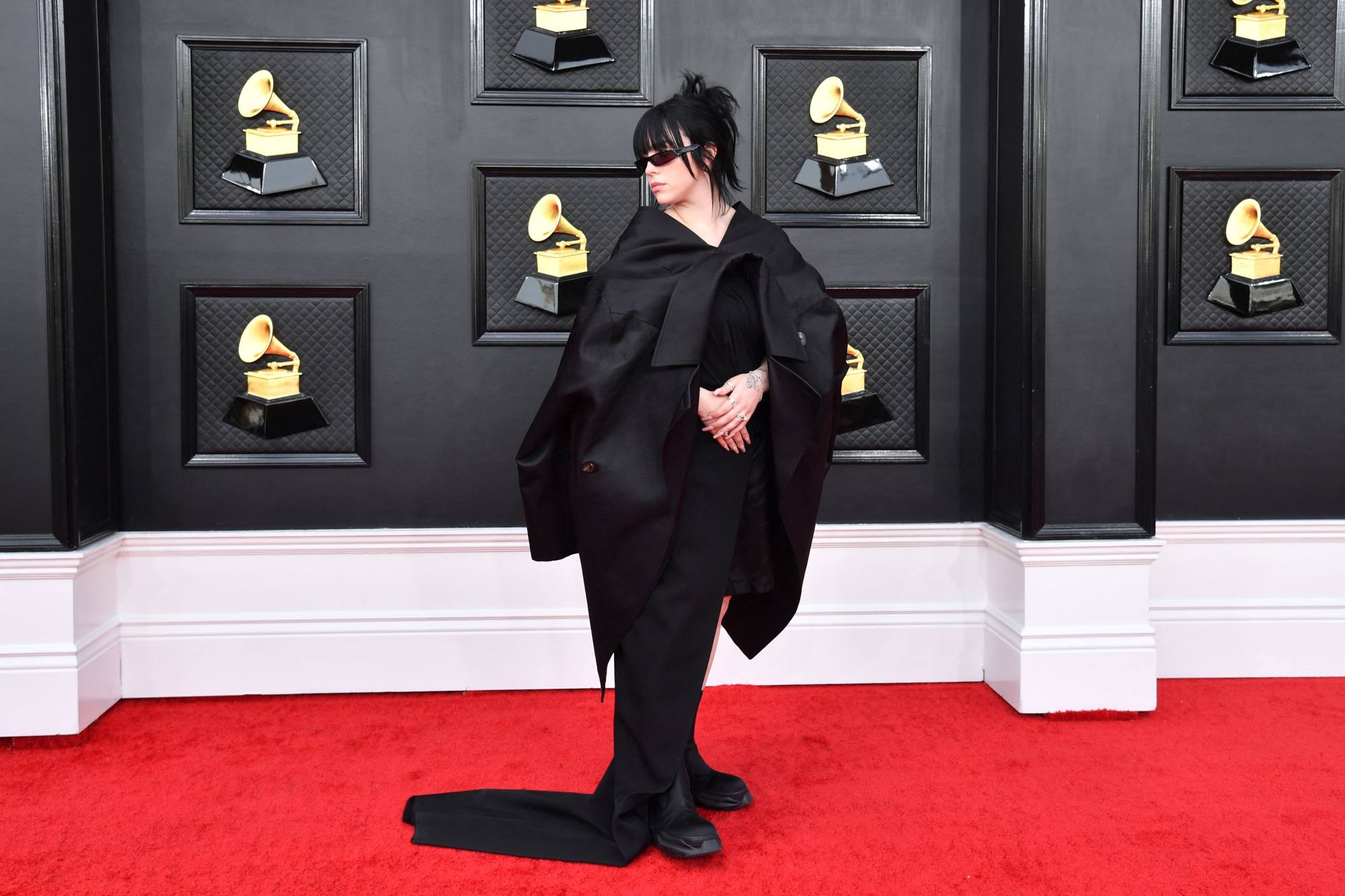 We think Billie Eilish is in there somewhere. Photo: AFP
Bad Guy singer Billie Eilish opted for an ultra dark ensemble from Rick Owens that completely swamped her. Offbeat and on brand, to be sure, but not one of her most flattering looks.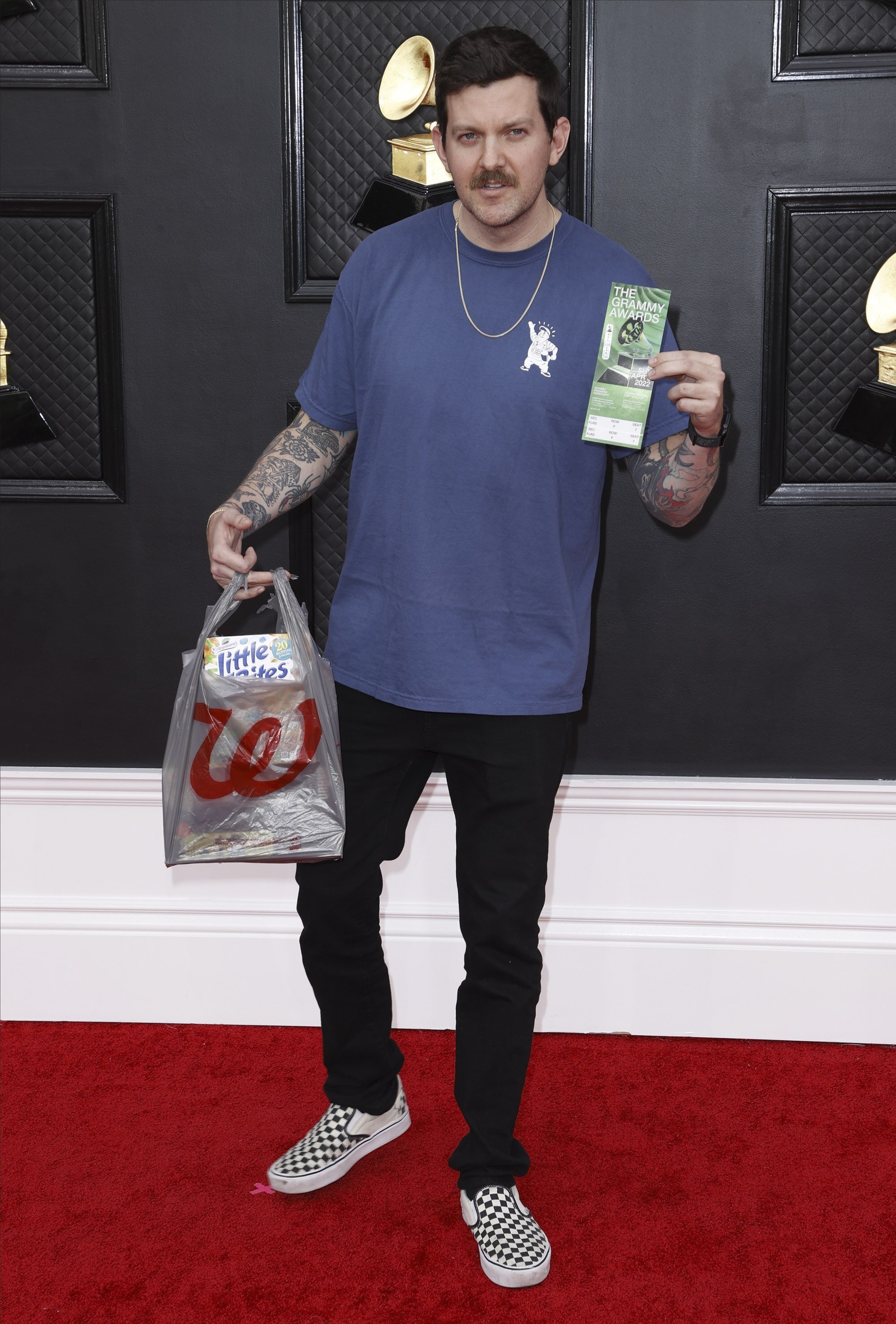 Dillon Francis arrived at the Grammy Awards with a bag of snacks from Walgreens. Each to their own. Photo: EPA-EFE
Dillon Francis' deliberately "nothing" Grammys outfit must have taken a full two minutes to assemble – either that or he got lost on his way back from the shops.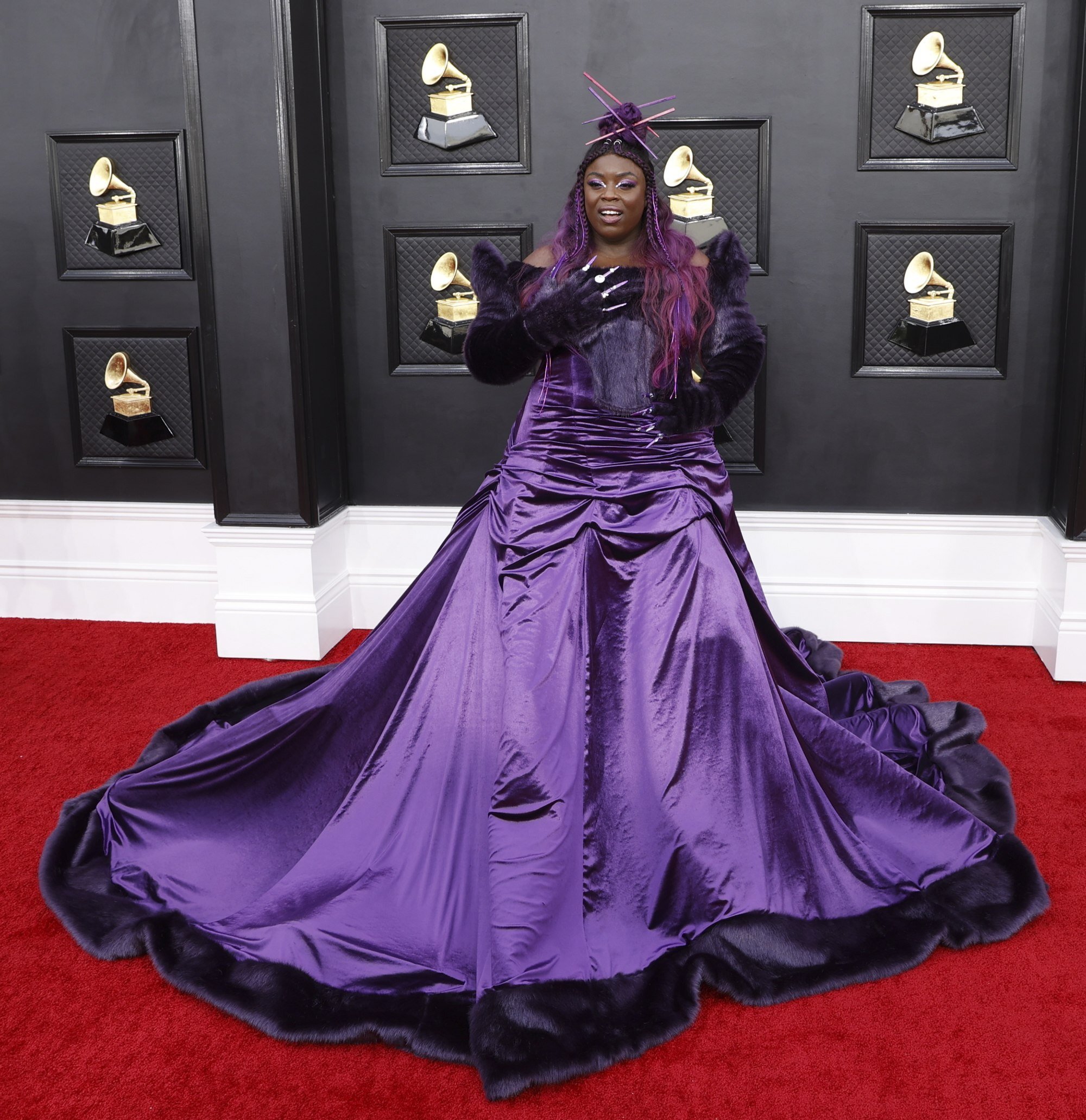 Yola arrives for the 64th annual Grammy Awards in a slightly terrifying purple get up. Photo: EPA-EFE
We're beyond excited about Yola's role as Sister Rosetta Tharpe in Baz Luhrmann's upcoming Elvis biopic, but not so much about the ruffled gown and the claws here.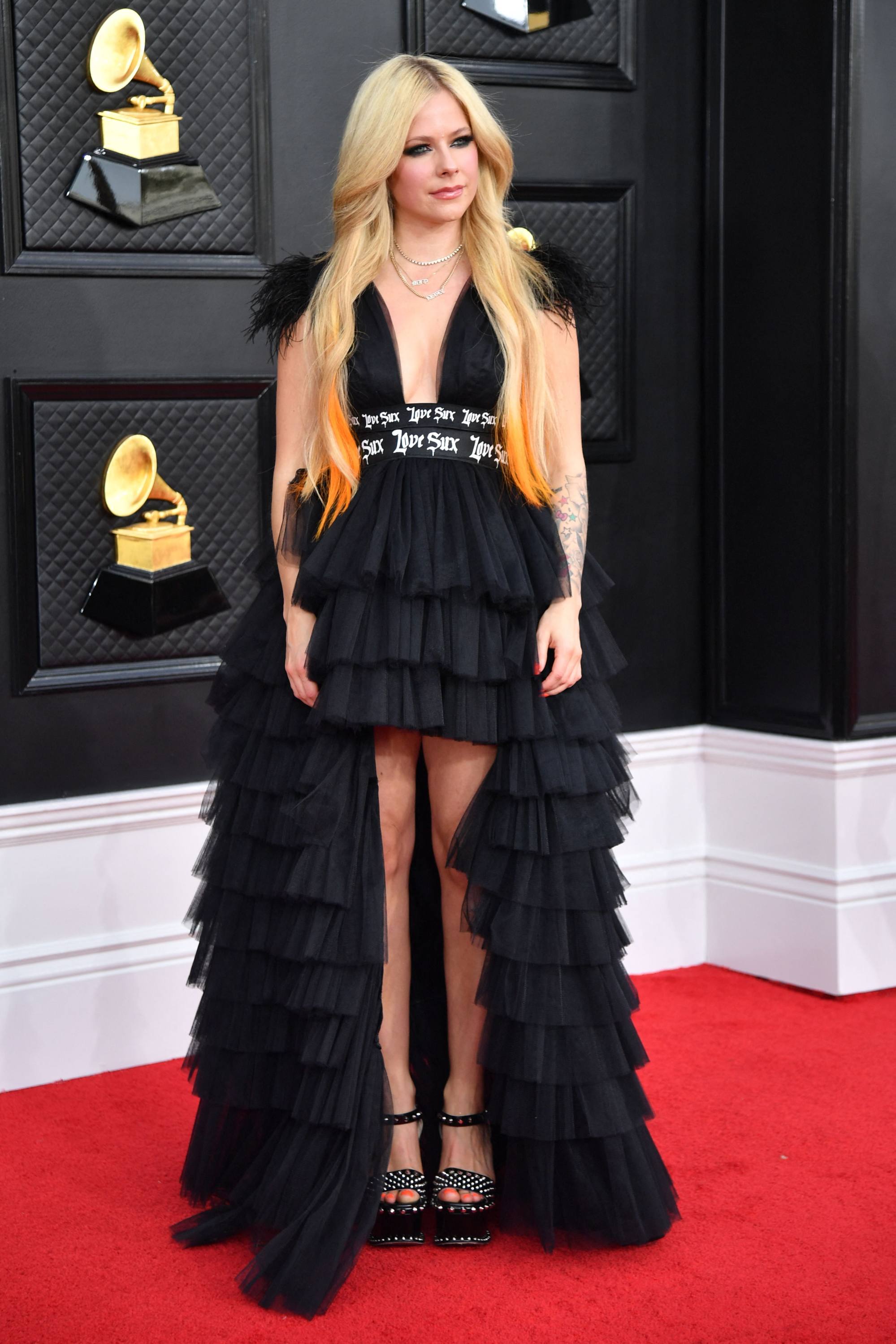 Canadian singer Avril Lavigne arrives for the 2022 Grammys, but we feel like it could have been the 2002 Grammys. Photo: AFP
OK, we love Avril Lavigne, but does anyone else feel like this look is slightly outdated?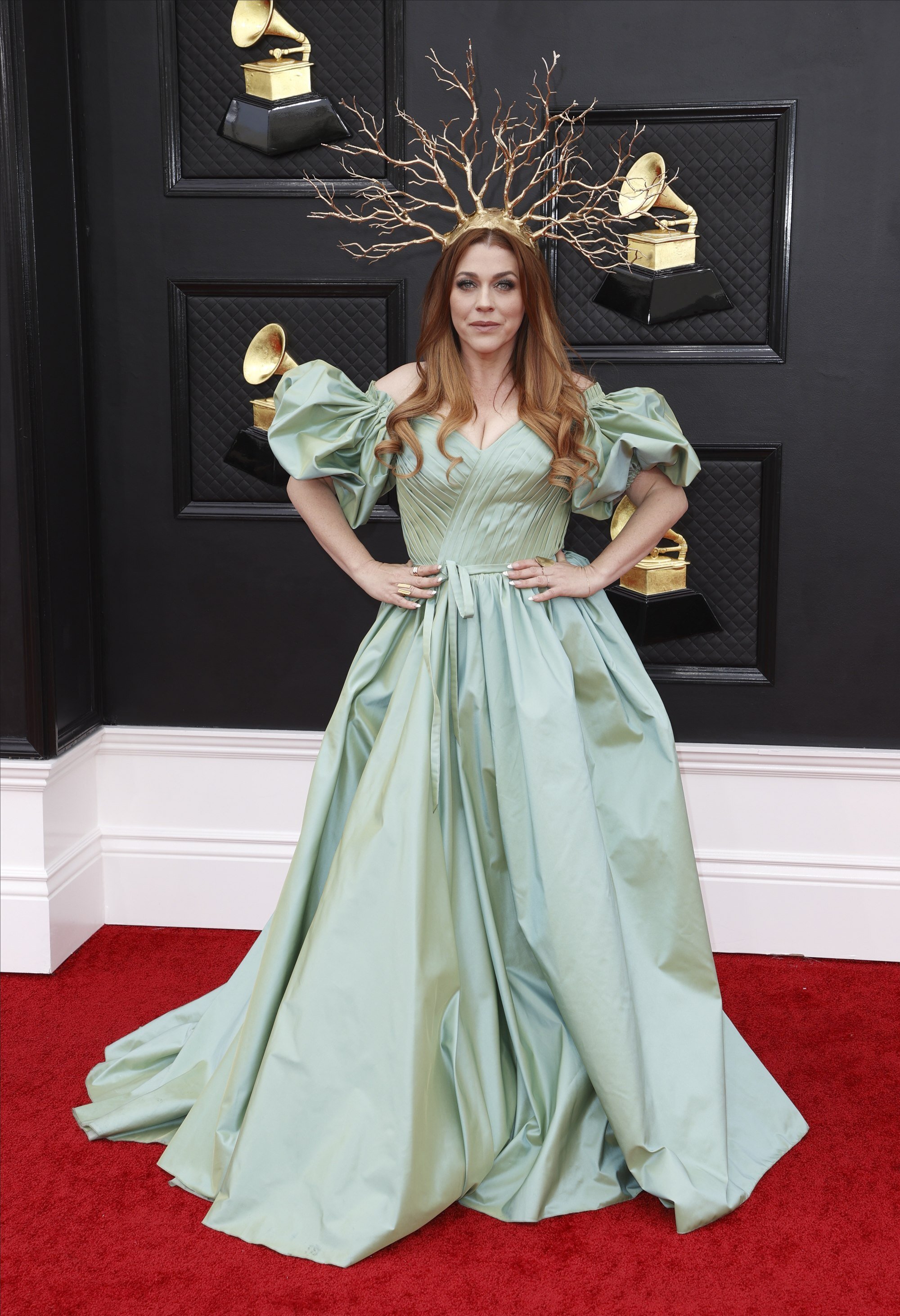 Alisha Gaddis' golden coral headpiece works well with the colour of her gown, but did it miss the mark? Photo: EPA-EFE
Alisha Gaddis showed up in an eye-catching headpiece, but it's off balance and just seems like something of a cliché when combined with the gown. For better halo interpretations, look to Celine Dion's 2019 Met Gala look.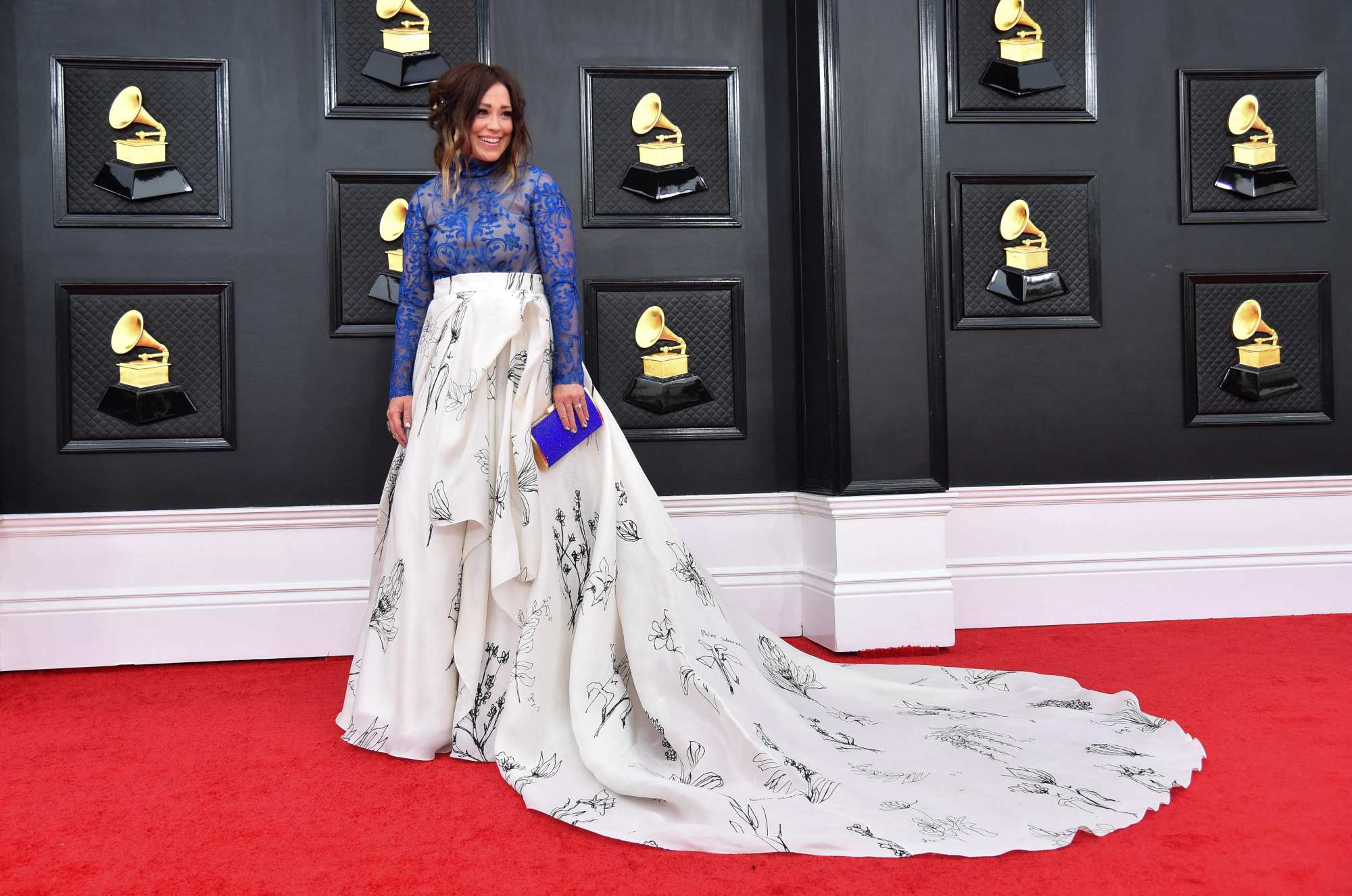 There's a bit too much going on here, Kari Jobe. Photo: AFP
Neither the colour palette nor the materials that clashed on Kari Jobe's top and skirt make a good match.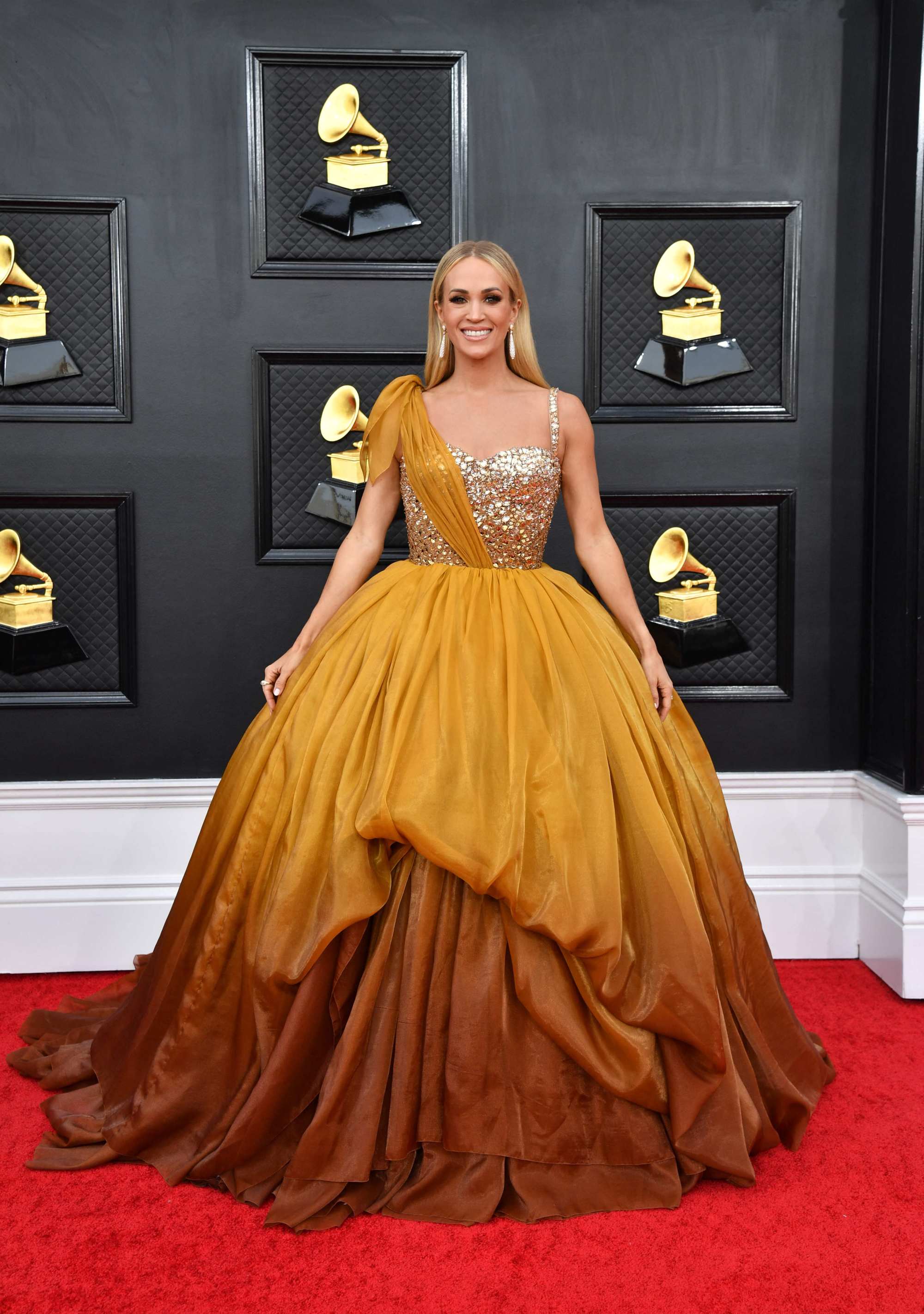 US singer/songwriter Carrie Underwood's look was more beauty pageant than red carpet ready. Photo: AFP
We much preferred the purple number that Carrie Underwood wore when she performed on stage at the event, to this bright gown she wore on her way in that just screams Miss Universe.